Spark Ionx Selected for Prestigious Creative Destruction Lab's Energy Stream
Denver,CO– Spark Ionx, a groundbreaking cleantech startup and a client company of Innosphere Ventures, proudly announces its acceptance into the esteemed Energy stream of the Creative Destruction Lab (CDL) program. Spark Ionx was chosen from a highly competitive pool of over 300 global applicants, solidifying its place as a leader in innovative energy solutions.
Innovative Solutions in Clean Energy
Spark Ionx is at the forefront of technological advancements, developing an Anion Exchange Membrane (AEM) with four times the durability and fifty times the conductivity of current industry standards. This pioneering technology has far-reaching applications, including in electrolyzers, fuel cells, flow batteries, and desalination systems.
A Highly Competitive Selection Process
"We are incredibly honored to be among the select group of companies chosen for this prestigious program," said Sean Daniel, CEO of Spark Ionx. "Being one of just 25 companies selected for the Energy stream, we look forward to engaging with CDL's panel of deeply experienced entrepreneurs and thought leaders to accelerate our growth."
About Spark Ionx:
Spark Ionx Inc., a Colorado corporation, was founded in 2020 with the mission to commercialize technologies that will advance the energy landscape. Spark's first product is TuffBrane™ AEM, a patented Anion Exchange Membrane with high conductivity and durability, for use in electrolyzers, fuel cells, electrodialysis desalination, and redox flow batteries. Spark is headquartered in Denver, Colorado. For more information, please contact [email protected] or visit www.sparkionx.com.
About the Creative Destruction Lab:
Creative Destruction Lab (CDL) is a nonprofit organization that delivers an objectives-based program for massively scalable, seed-stage, science- and technology-based companies. Its nine-month program allows founders to learn from experienced entrepreneurs, increasing their likelihood of success.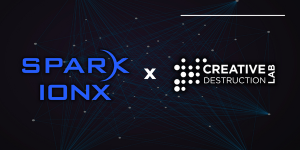 Founded in 2012 by Professor Ajay Agrawal at the University of Toronto's Rotman School of Management, the program has expanded to eleven sites across five countries: Oxford (Saïd Business School, University of Oxford), Paris (HEC Paris), Atlanta (Scheller College of Business, Georgia Institute of Technology), Madison (Wisconsin School of Business, University of Wisconsin-Madison), Seattle (University of Washington, Foster School of Business), Estonia (Delta Management School, University of Tartu). Vancouver (Sauder School of Business, University of British Columbia), Montreal (HEC Montréal), Calgary (Haskayne School of Business, University of Calgary), and Halifax (Rowe School of Business, Dalhousie University).
Since its inception, companies that have participated in the CDL program have created more than $28 billion (CAD) in equity value. CDL alumni include Ada (Toronto), Atomwise (San Francisco), Kyndi (Palo Alto), Xanadu (Toronto), Maple (Melbourne), BenchSci (Toronto), Kheiron (London), and Roadbotics (Pittsburgh).
About Innosphere Ventures:
Innosphere Ventures is a regional incubator program that accelerates the success of founders, researchers, entrepreneurs, and university researchers who are launching and scaling technology and science-based startups through accelerator programs, office and specialized wet laboratory facilities, and venture capital funds. Innosphere is a 501(c)(3) non-profit with a mission to grow the region's innovation ecosystem and to support the commercialization efforts of startup companies.