Office Space & Laboratories
Innosphere's building provides Class A offices and laboratory space in our 3-story LEED Platinum Innovation Center in north Fort Collins. We're located just north of Old Town in Fort Collins and within walking distance of New Belgium Brewing, and the brand new Poudre River Whitewater Park.
An exceptional price and great location, just north of downtown and across the street from the new Whitewater park. When you lease space at Innosphere, you become part of an entrepreneurial ecosystem.
Vacant Space Available at Innosphere
Innosphere has one large office available in the LEED Platinum Class A building on the Southeast side! Here's more info on the space:
803 Sq/Ft Office on the SE side of the Innosphere Building includes a glass wall office and option to add on additional attached Executive Suite Of 223 Sq/Ft.
Gross Monthly Cost: ~ $1,807 / month. This includes everything EXCEPT phone and internet.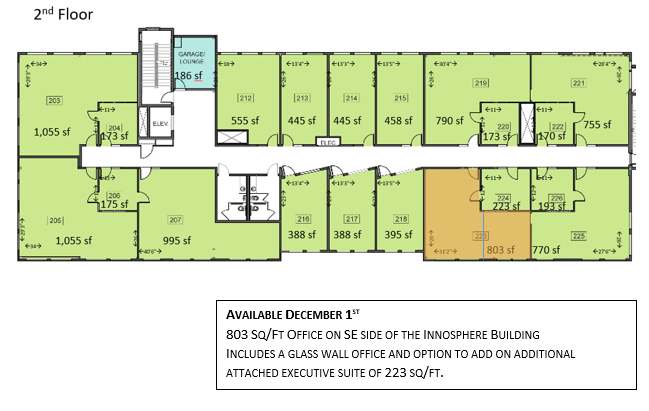 Your business at Innosphere includes perks such as:

"I have two businesses located in Innosphere, the Open Water Foundation and TriLynx Systems. The Innosphere has provided a great place for these businesses to move from early start-up to stability and growth. The office space is nice and we have access to conference rooms and Old Town venues for meetings. Innosphere staff are accessible for help and there are interesting events."

---

"My team and I have worked out of office space at innosphere for the last 5 years. The space is modern and clean, the admin staff are on the ball, and the community is good and growing. Most of my local connections have come from people at innosphere. It's a great hub for business & tech in Fort Collins."

---

"We really enjoy being a tenant at the Innosphere! The team here is great, responsive, and are always there to help and provide resources. The building is clean and modern, making it a really enjoyable workspace. The Innosphere has great programs for those with a startup and put on great events for after hours and lunch & learns. Special thanks to Aziza and Emily for always being available, responsive, and creating a great environment for the tenants!"

---

"I have been working in the Innosphere for the last nine months and it has been a fantastic place to grow our business.

The staff is beyond helpful and the building is one of 6,633 LEED Platinum-Certified in the world.

The Innosphere has also been a fantastic place to network and get a glimpse of cutting-edge businesses.r"

---
The Businesses Who Use Our Facilities:

Let's Innovate

Stay up-to-date with all everything going on at Innosphere