The U.S. Innovation Imperative
Innosphere Ventures works at the intersection of technology startups, venture capital, and technology-based economic development in the U.S. Mountain & Plains Region
Blog Author: Mike Freeman, Innosphere Ventures General Partner and CEO
Entering a post-COVID-19 economic recovery, I feel anxiety and concern about the United State's long-term competitive economic position. While the U.S. is a global innovation leader with substantial assets, sustaining a global leadership role into the future will require a lot of effort and the deployment of different economic growth strategies. 
Why? Not only are we working our way out of the pandemic's economic shock, but the global landscape will undoubtedly continue to change even more rapidly going forward. The recipe for winning in technology-based economic development is now more widely understood — and nations, states and regions are vying to "win."
The U.S. has mixed results when you look at the global economic performance data over the past five years. For example, the U.S. ranked first in the Bloomberg Innovation Index in 2013, but fell two places to 11th in the most recent ranking, falling out of the top ten for the first time.
Additionally, organizations that are concerned with U.S. global positioning, such as the National Science Board, have noted that "where once the U.S. was the uncontested leader in science and engineering, we are now playing a less dominant role."  Add to that, which I covered in a recent post, that for all the work that organizations like Innosphere and others put in to supporting higher rates of successful entrepreneurship, new company formations have dropped dramatically over the past decade. The good news is that there are many organizations working to understand and make recommendations on how the U.S. can maintain its technology and innovation prowess, but it will take a concerted effort and leadership to address this complex issue.
A great example of a national thought leader on this subject is the Council on Competitiveness in Washington, DC.  The Council is currently organizing a National Commission on Innovation & Competitiveness.  As part of that work, their recent report is of significant interest to me. 
A quote from their report titled, "Competing in the Next Economy: The New Age of Innovation" sums up the current challenge very well — because the point is that we need to do something radically different than the past:
"The bottom line is simple – to compete in the next economy requires playing a new innovation game, one whose goal is to boost U.S. innovation tenfold: 10x." 
I had to process the notion of a tenfold increase in innovation.  With the science and technology entrepreneurs we work with at Innosphere, we often coach them that their solution has to be 10X better or 10X cheaper – which is easy to say, yet very hard to accomplish.  So what might it take to create a tenfold increase in U.S. innovation?  Here are some the Council's first thoughts (edited):
10X Leadership and National Strategies for Innovation

Example: build a whole-of-nation strategy for technologies like AI


10X Number of Innovations Developed in and Deployed in the U.S.

Example: Expand venture capital capacity nation wide (in particular in the middle of the U.S.)

10X The Speed at Which the U.S. Innovates

Example: Drive the rapid adoption of new technologies in the "infrastructure" space among all levels of government

10X The Number and Diversity of Americans Engaged in Innovation

Example: Engage more diverse scientist and engineering in higher education
To really accomplish a tenfold increase in U.S. innovation – it becomes clear that we ALL need to do things differently.
So what will Innosphere Ventures do differently? While Innosphere Ventures has always worked in technology-based economic development with U.S. innovation being core to our mission — our new initiative in 2021 will build on one of the core strengths we have as an organization – supporting research university commercialization efforts. (Innosphere has longtime partnerships with Colorado's research universities and their technology transfer offices at Colorado State University, the University of Colorado and the Colorado School of Mines.)
Formalizing relationships with technology transfer offices outside of Colorado is a win-win situation to support university research, ongoing innovation efforts, and all of our economic development goals.
Research universities are consistent sources of invention, research and development funding, and they are catalysts for technology commercialization. For instance, the universities and Federal labs in Colorado and surrounding states secured $4.2B in sponsored research in 2019: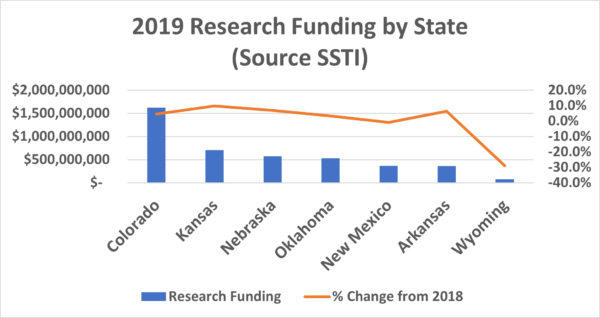 As part of our growing support program for research universities, Innosphere Ventures will be announcing numerous new partnerships with regional research universities over the coming month.  We are expanding services out of Colorado for the first time and will grow the capacity and capability of supporting the consistent and rapid commercialization of technologies that can fuel high-growth startup opportunities and their resulting economic impact. 
We are excited to launch a new chapter in the Innosphere program and look forward to supporting enhanced economic growth in the Mountain and Plains region.
What is your plan to more effectively support a 10X improvement in U.S. innovation in 2021?

— Blog author: Mike Freeman, General Partner and CEO of Innosphere Ventures
---
About Innosphere Ventures
Innosphere Ventures is a Colorado-based incubator that accelerates business success of science and technology-based startups and emerging growth companies with an exclusive commercialization program, specialized office and laboratory facilities, and a seed-stage venture capital fund. Innosphere has been supporting startups for over 22 years and is a non-profit 501(c)(3) organization with a strong mission to create jobs and grow the region's entrepreneurial ecosystem.
Apply Now: Innosphere Ventures is accepting applications from science & technology startups to join the Commercialization and Incubation Program
Let us help you accelerate the success of your company with our commercialization and incubation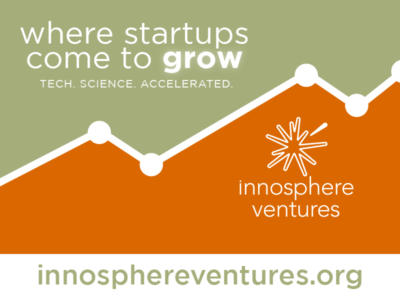 programs that focus on helping entrepreneurs learn valuable skills on how to be investor-ready, access capital, acquire customers, build talented teams, accelerate top line revenue growth, and (if it's your goal) execute a successful exit of your company.
Innosphere Ventures' incubation and commercialization program supports startups and emerging growth companies in high-tech industries, and we roll up our sleeves to help you tackle your most pressing business milestones! We'd love to learn more about your company or technology. Please submit an online application this month at https://innosphereventures.org/.