⚡️ PROJECT HIGHLIGHT: BioMARC 2.0 Advanced Manufacturing Center ⚡️
CSU's BioMARC 2.0 Advanced Manufacturing Center is a state-of-the-art biomanufacturing facility designed to accommodate manufacturing with highly infectious agents under GMP conditions, and is one of the many projects you'll find within the Colorado Coalition's grant proposal to the U.S. Economic Development Administration's BBBRC Regional Challenge (BBBRC).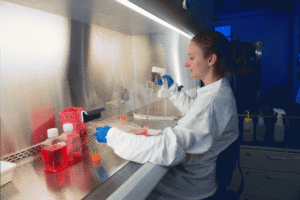 As one of the remaining 60 finalists of the BBBRC grant, we're excited to be showcasing some of our construction projects — such as the BioMARC 2.0 facility that will expand the existing BioMARC facility to create a national asset for infectious disease-related biomanufacturing for both human and animal diseases, and will train workforce and students in high-skilled biotechnology & biomanufacturing skills.
________
Missed our Innovation After Hours event?
Below is a recap of the common questions that Ray Goodrich, executive director of the CSU Infectious Disease Research Center, answered for our attendees:
Q: If awarded the construction grant for BioMARC 2.0, what will it fund?

A: The construction of the building's outer shell with capacity for 3 self-contained, modular biocontainment pods for biomanufacturing.

Q: What's the relationship between CSU and BioMARC?
A: BioMARC currently operates as a financially independent operation, though it is fully owned by CSU. Partners such as biotech companies and government agencies pay fees for the services provided and these fees cover all direct costs and overhead charges associated with maintaining the facilities.

Q: How relevant and important is the research and commercialization that will happen here?
A:  The current focus of BioMARC activities has been on human pandemic disease threats; however, animal diseases that ravage the US agricultural economy pose an equal threat to the well-being of the nation. At present, current facilities will not permit the use of space for both human and animal health product development. The expanded space available from this build will allow us to extend our support and pandemic response capabilities to include animal as well as human diseases.

We know that most of the infectious disease threats facing the world can transmit between animals and humans. We must change how we develop, test, and manufacture infectious disease products for animals. Bottom line — this proposal will achieve that.
________
Missed our last post about CSU's Powerhouse Climate Solutions Campus? Read it here.