Equity 101 and Cap Table Essentials for Founders
StartUp FoCo is officially here and we're thrilled to bring you this presentation from Jeff Erickson of Carta
By the end of this panel, you will learn: what investors are looking for when they ask to see your cap table.
What is the difference between common and preferred shares in your company?

Why should you give equity to your employees?

How do stock options work?

What is a cap table and why is it important?

How much equity should I give to employees and investors?

What is a SAFE? Convertible Note?
These are all questions that have to do with a company's cap table. As a founder, it is essential to understand the basics of how your cap table works and how it is impacted with each round of funding.
Presenter: Jeff Erickson, Director of Business Development at Carta, the leading provider of company valuations & cap table management services.
______________________________________________
Special offer for Innosphere client companies!
Carta Launch is a free solution that allows early-stage companies with up to 25 stakeholders and up to
$1M raised to maintain an accurate cap table from day one. Because it updates in real time, founders,
finance teams and lawyers can avoid spending time and money on costly legal cleanup. Getting started on Carta Launch is designed for you to easily set up your cap table in minutes
Free Carta Launch plan sign up:

 https://carta.com/launch/accelerators/innosphere-ventures/

Discount on paid plan sign up: 

https://carta.com/referral/innosphere-ventures/
About Innosphere Ventures
Innosphere Ventures is a Colorado-based incubator that accelerates business success of science and technology-based startups and emerging growth companies with an exclusive commercialization program, specialized office and laboratory facilities, and a seed-stage venture capital fund. Innosphere has been supporting startups for over 22 years and is a non-profit 501(c)(3) organization with a strong mission to create jobs and grow the region's entrepreneurial ecosystem.
Apply Now: Innosphere Ventures is accepting applications from science & technology startups to join the Commercialization and Incubation Program
Let us help you accelerate the success of your company with our commercialization and incubation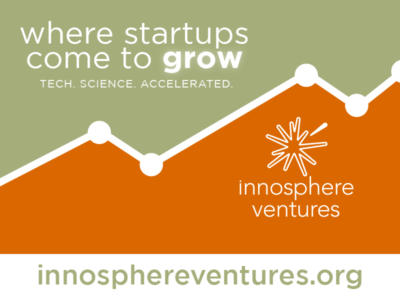 programs that focus on helping entrepreneurs learn valuable skills on how to be investor-ready, access capital, acquire customers, build talented teams, accelerate top line revenue growth, and (if it's your goal) execute a successful exit of your company.
Innosphere Ventures' incubation and commercialization program supports startups and emerging growth companies in high-tech industries, and we roll up our sleeves to help you tackle your most pressing business milestones! We'd love to learn more about your company or technology. Please submit an online application this month at https://innosphereventures.org/.