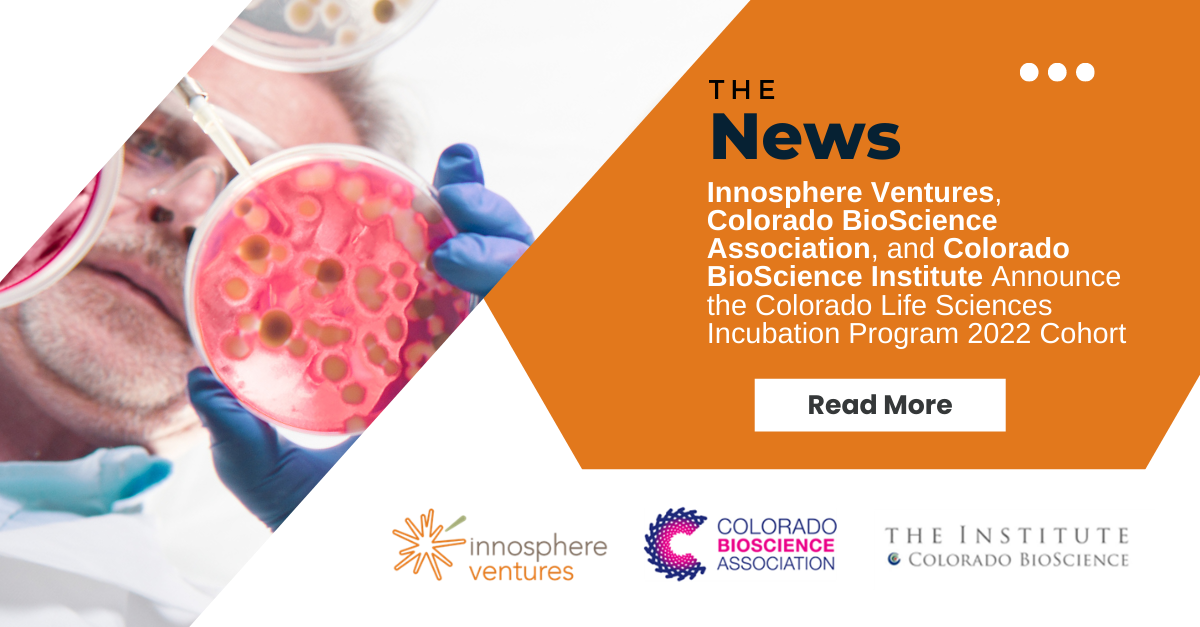 Innosphere Ventures, Colorado BioScience Association, and Colorado BioScience Institute Announce the Colorado Life Sciences Incubation Program 2022 Cohort
Early-Stage Companies in Biotech, Medical Device, Oral Health/Teledentistry, and Health Technology Selected to Take Part in Year-Long, State-Funded Program
Denver and Fort Collins, Colo.- Innosphere Ventures, Colorado BioScience Association (CBSA), and Colorado BioScience Institute (The Institute) announce the nine startup and scaleup companies that were selected to join the 2022 Colorado Life Sciences Incubation Program.
The state-funded program offers life sciences startups that are developing or commercializing technologies, products, devices, and life-saving breakthroughs, the combined expertise, and insights of the three organizations. Participants will access Innosphere's leading incubation program for entrepreneurs, CBSA's resources and programming, which are designed to build a collaborative environment and supportive business climate for life sciences innovation, and the Institute's expertise in life sciences-specific educational programs.
The 2022 cohort includes: Micropure Genomics Inc., Fifth Arm Surgical, DenTriage, SteriO3, Vitro3D, outlook Health, RedDrop DX, NanoSpot.AI, Beryl Therapeutics and IEQMax
"Our vision is to grow Colorado's bioscience advanced industries into a top-five nationally ranking cluster within 3-5 years. To accomplish that goal, we are thinking bigger. Innosphere Ventures, in a novel partnership with the Colorado Bioscience Association and Colorado Bioscience Institute, is delivering a first-of-its-kind life sciences incubation program to accelerate the successful development of new Colorado life sciences businesses, job creation, and reputation in developing promising bioscience innovations that save and change lives," said Mike Freeman, CEO of Innosphere Ventures.
"Colorado BioScience Association and our sister organization, Colorado BioScience Institute, congratulate the new Colorado Life Sciences Incubation Program cohort," said Elyse Blazevich, President and CEO of CBSA and President of The Institute. "These promising startups represent the future of Colorado's dynamic life sciences community. We are proud to accelerate their growth and success through the year-long incubation program, in partnership with Innosphere Ventures."
The Advanced Industries Business Accelerator Grant, awarded by Colorado's Office of Economic Development and International Trade (OEDIT), provides funding to programs in Colorado that have developed or are developing programming for early-stage companies in the state's advanced industries. The state funding allows founders of the selected life sciences companies to take part in the year-long Innosphere-led incubator, membership in Colorado BioScience Association, with access to more a broad variety of education and networking opportunities each year, and fully funded participation in The Institute's Foundations of Leadership program Leadership programs.
Lisa Padilla, CEO & Founder of Beryl Therapeutics, a company that is a part of the 2022 Life Sciences Incubation Program, said, "Beryl is leading innovation in bone health using skeletal lipidomics. Innosphere Ventures is also innovating – this time in a joint venture with CBSA and the Institute to develop a Life Sciences Incubation program, led by an amazing team with vast experience in life sciences. Beryl is thrilled to participate in the first cohort and look forward to successfully reaching our next fundraising milestones in this program with CBSA, The Institute and Innosphere Ventures."
 2022 Life Sciences Incubation Program Cohort
Micropure Genomics Inc.
Micropure Genomics is developing the only end-to-end, rapid automated sample preparation platform for genomic sequencing, μPrep. The μPrep platform not only automates genomic sample preparation but also reduces the preparation time, burden, and cost.
Industry Segment: Biotechnology | Colorado | Ryan J. Montes, CEO and Co-Founder, Jason E. Butler, Co-Founder | Founded 2021 | www.micropuregenomics.com
Fifth Arm Surgical
Fifth Arm Surgical Inc, a company formed by an end user, desires to provide improved visualization during laparoscopic and robotic assisted laparoscopic surgery procedures. The Fifth Arm Surgical patented suction device provides full access suction capabilities to the laparoscopic surgical field. Better visualization will decrease case times and provide improved outcomes for the increasing numbers of advanced robotic assisted laparoscopic surgery procedures worldwide.
Industry Segment: Medical Device | Colorado Springs | Robert Novell, CEO | Founded 2022 |  www.fiftharmsurgical.com
DenTriage 
DenTriageTM is a comprehensive mobile and web-based platform that provides a convenient way for patients to receive timely care for urgent dental issues using state-of-the-art Tele-Dentistry capabilities. DenTriage enables consumers to get urgent dental consults promptly, find dentists quickly, and make appointments easily. DenTriage will improve ease of access to dental care, decrease dental-related ER visits, and reduce the overall cost of dental care.
Industry Segment: Oral Health / Teledentistry | Aurora | Dr. Mehul V. Gandhi, M.D. MBA, CEO | Founded 2017 | www.dentriage.com
SteriO3
SteriO3 provides an innovative solution to the need for surgical instrumentation sterilization in austere field-based environments. The company's rugged ozone sterilization system the ROSS M1 is a portable, rapid, and easy-to-use system designed specifically to meet the challenges presented when dealing with surgery in conflict zones, after natural disasters or in remote field-based locations. The Broomfield, Colorado-based company was formed in 2017 to commercialize the device by its founder and President Steve Hughes and is pleased to be collaborating with both the U.S. Navy and U.S. Air Force.
Industry Segment: Medical Device | Broomfield | Steve Hughes, President | Founded 2017 | www.sterio3.com
Vitro3D
Vitro3D is revolutionizing 3D printing for the life sciences industry by bringing volumetric 3D printers to the patient point of care. Our 3D-printing method delivers products that are better suited to the needs of the life sciences industry than existing 3D-printing methods. It is also more sustainable and 100x faster. Our initial target market is teeth aligners for the dental industry. Our technology will enable orthodontic aligners to be printed at the point of care and so delivered to patients that day versus waiting several weeks. Additional markets include implants and organoids.
Industry Segment: Biotechnology | Boulder | Camila Uzcategui, CEO | Founded 2017 | vitro3d.com
Beryl Health
Beryl Therapeutics is developing a safe, effective, orally bio-available compound that will improve bone health as we age. Beryl is developing a first-in-class patented small molecule that originates from olive oil and is structured upon a compound that is naturally occurring in our bodies, a safety advantage over current bone therapeutics that will encourage patient adoption and adherence. Unlike current options, the Beryl compound works on both sides of the bone remodeling process – absorbing and forming bone with a net positive for bone formation. Beryl's compound will provide women safe and effective options to manage their bone health.
Industry Segment: Biotechnology  | Longmont | Lisa Padilla, CEO & Co-Founder, Alison B. Lukacsko, CSO & Co-Founder, Allison Drew Klein, Co-Founder | Founded 2022 | http://www.beryltherapeutics.com
RedDrop Dx
RedDrop Dx is a developer of low cost, pain-free blood collection, dispensing, and transportation devices which may be used in Point of Care, Home Health, and remote collection situations. The company believes in a new approach to healthcare, where quick and accurate diagnostics tests will be run wherever they are needed, without compromise.
Industry Segment: Biotechnology | Fort Collins | Kris Buchanan, Dirk van den Boom | Founded 2019
NanoSpot.AI
NanoSpot.ai is an artificial intelligence-driven medical diagnostic platform leveraging a blood-spot-based approach and artificial intelligence-driven mobile application to provide low-cost, accurate, and quantitative results to the point-of-care. Our flagship product, the NanoSpot.ai SARS-CoV-2 Total Antibody Test, will deliver quantitative COVID-19 antibody measurements to the point-of-care in under 3 minutes (sample to answer) and will be commercially available in Summer, 2022.   This unique approach to diagnostics will be expanded to a suite of indications to address and disrupt some of the largest markets in diagnostic testing."
Industry Segment: Medical Device, Diagnostics | Salt Lake City | Rian Wendling, Co-Founder | www.nanospot.ai
IEQMax, LLC
IEQMax is a healthcare SaaS company. By leveraging their patented real-time bio-sensing technology ("Biofast"), for the first time, healthcare facilities can detect and monitor indoor air quality related to the presence of biologic constituents beyond the typical particulate and volatile chemical compound constituents. This breakthrough technology enables data-based decision that allow facilities to manage their risks better and increase revenue.
Industry Segment: Healthcare Technology, SaaS | Denver | Brad Richards, CEO
About Innosphere Ventures
Innosphere Ventures accelerates the success of science and technology-based startups through its unique accelerator and commercialization programs, specialized laboratory facilities, and venture capital fund. Innosphere has supported founders and CEOs building high-tech companies for 24 years and is a non-profit 501(c)(3) organization with a strong mission to grow the region's entrepreneurial ecosystem. https://innosphereventures.org/
About Colorado BioScience Association
Colorado BioScience Association (CBSA) creates co-opportunity for the Colorado life sciences community. CBSA champions a collaborative life sciences ecosystem and advocates for a supportive business climate. From concept to commercialization, member companies and organizations drive global health innovations, products and services that improve and save lives. The association leads Capital and Growth, Education and Networking, Policy and Advocacy, and Workforce Cultivation to make its members stronger, together. Learn more: cobioscience.com
About the Colorado BioScience Institute
Colorado BioScience Institute is a non-profit that provides workforce development and STEM education programs to cultivate and diversify the life sciences talent pipeline in Colorado. The Institute provides educational programs for students and teachers, individuals and companies contributing to the overall workforce cultivation efforts in our state. The Institute's programs reach students and teachers beginning in middle school and professionals at all stages of their careers. All Institute programs either prepare students for careers in life sciences or promote growth to those already in the industry, providing the life sciences community with a highly skilled workforce.